The New Braunfels Middle School (NBMS) Robotics Club wrapped up its 2022-2023 season after advancing to Regionals, which was held on March 4, 2023 at the School of Science and Technology in San Antonio.
The NBMS Robotics Club consists of 25 students split into three teams: Blue, White, and Silver.
During the tournament season, the teams competed in both a robotics competition and a research competition, where students had to come up with a solution to a real world problem and present their project to a panel of judges.
The Blue team was awarded second place in robot performance at the local competition and the Silver advanced to Regionals where they placed 29th out of 55 teams, earning higher scores than the previous competition.
The teams are coached by David Luna, a 6th and 7th grade Science Teacher at NBMS, and Matthew Sargent, founder of the robotics club and parent of two current members.
Sargent formed the club back in 2015 at Walnut Springs Elementary after the public library's robotics program lost funding. As his kids got older, he helped expand the program to the middle school.
"The elementary school kids learn programming in the first year and start building for competitions the second year," Sargent explained. "By the time the students reach middle school, they have been engaged in STEM activities and familiar with research and teamwork skills that are needed in competitions."
Also cheering on students at the competition was Coach Luna. His first year with the team, he brings a knowledge of science to the team and a background working in underwater machinery.
"The students had a lot of fun at the tournaments this year, and it was great to see how competitive they got." Luna continued, "They prepared all year working on STEM skills like mechanical engineering, computer science, and coding. It really gives the kids a taste of what computer applications can do for the world, and teaches them critical thinking and problem solving."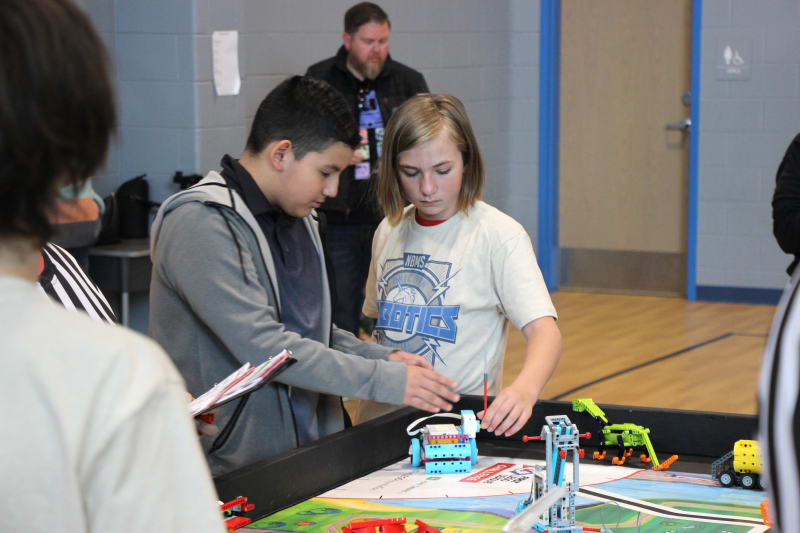 During the school year, the Robotics Club meets once a week after school for 90 minutes. The middle school students learn engineering skills and use legos to build robots and then program the robots using codes on their ipads.
"The kids will build with arms, levers, and different attachments. They have to use trial and error, while adjusting the coding, to design the robots and improve the functioning," Luna explained.
"It's great to see the students work together throughout the semester on various problems and design challenges, and then they will get the light bulb moment when everything comes together and they figure out a solution," Sargent said.
As the 2023 season comes to a close, Sargent and Luna are looking forward to preparation for next year.
The NBISD school board funded 22 teams for the school district last year, which is enough for each elementary and middle school to have a robotics team.
Sargent stated, "There is potential for growth in the robotics program. We hope that with enough interest, clubs will begin forming at other schools within the district!"