Once a month, Walnut Springs Elementary School holds Club Friday, which is a school-wide initiative allowing students the opportunity to engage in an activity and fine-tune their skills throughout the semester.
At the beginning of each semester, students have the option to join one of the school-sanctioned clubs, including robotics, playdough, lego, story origami, building and more.
"Club Fridays help foster relationships between students and teachers that normally don't get to interact because they are in different classes or grade levels," said Jacquelyn Winters, Assistant Principal of Walnut Springs Elementary.
Students are grouped with the grade level above or below their own, and given the opportunity to input their 1st, 2nd, and 3rd choice of club at the beginning of the semester. There are currently 23 total clubs available to students during the Spring semester.
Club Fridays were brought back this school year in order to increase student success and involvement in activities following a pause on club activities during Covid-19 precautions.
"Clubs expose students to other interests that are non academic. They gain challenging problem solving skills and it gives them an opportunity to be creative," Winters said.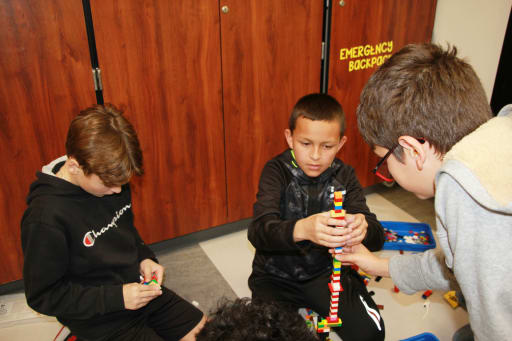 Jennifer McGovern, a teacher at Walnut Springs Elementary School, leads the 4th-5th Grade Lego Club.
"I give students a challenge each time we meet. It could be building the highest structure, the vehicle that travels the furthest, or the strongest structure. They also get some free build time at the end of the day," McGovern said.
McGovern has built a collection of supplies bringing in old Lego sets that her daughters used to play with. She hopes to continue building the club and encouraging students through the program.